Ecotour Report
Your Guide to the Best Manatee Tours in the Florida Keys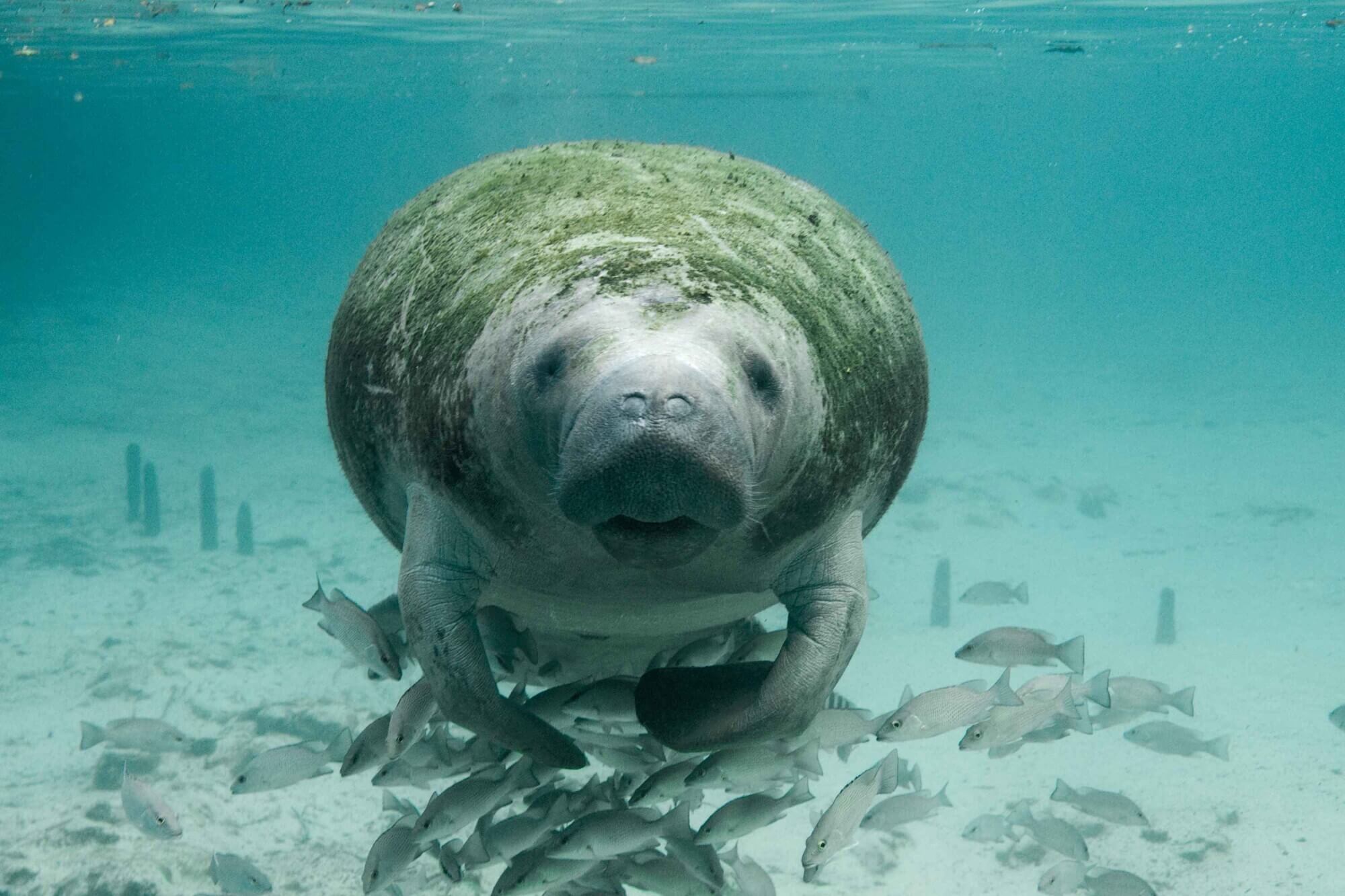 Did you know manatees share a common ancestor with elephants?
Elephants are the manatee's land-based cousin, and the manatee is the ocean's largest herbivore.
Imagine feeling the warm sun on your skin as you hear the faint call of seagulls in the distance. You look out across the mangroves and see a gentle giant emerging from the depths: a manatee. It's an unforgettable experience that will stay with you forever.
Keep reading to learn what makes manatee tours particularly special.
Why We Love Manatee Tours
Manatee tours aren't just another excursion.
They're a way to connect with nature as a passive observer. Going on a manatee tour gives you the opportunity to witness majestic "sea cows" in their natural habitat without encroaching on their freedom.
And that's what makes them special.
You're not observing them from behind a thick wall of glass in captivity but appreciating their gentle, slow-paced existence where they're most comfortable.
Fun Facts About Manatees
Before you embark on your manatee tour, here are some fun facts about manatees to whet your appetite for exploration:
Manatees eat up to 15% of their body weight each day
Manatees have similar grazing habits as cows
Manatees are thought to have inspired legends about mermaids
Manatees live for up to 60 years
Where To See Manatees
The Florida Keys are the perfect place to embark on a manatee adventure. Warm, shallow waters make for frequent chance encounters - and great photo opportunities on top!
With a variety of tours available (below), from guided boat tours to cruises, there's something available for everybody's tastes and budget. All Florida Keys tours are guided by experienced professionals who are passionate about the creatures and the environments they inhabit.
Sunset Cruises
Sunset cruise Florida Keys manatee tours combine the beauty of a Keys sunset with the chance to see manatees in the wild.
As the sun casts a golden glow over the water, your Captain will guide you through the calm waters in search of manatees. The telltale signs of a sighting include a snout or tail breaking the water's surface or a series of bubbles.
You'll have the chance to sip your favorite cocktail or wine as the sun goes down. As the day cools, manatees surface more frequently, providing perfect viewing opportunities as the stars begin to twinkle in the sky.
Islamorada Eco Tours
Private, hour-long trips through the mangroves of the Islamorada (known as the Sportfishing capital of the world) offer a unique way to explore the rich biodiversity of the Florida Keys.
You'll lay your eyes on a variety of wildlife, including ospreys, iguanas, dolphins, saltwater crocodiles - and manatees in the Florida Keys!
Plus, these tours offer a great opportunity to combine wildlife viewing with eco-education. You'll discover the importance of the seagrass beds and the mangroves. You'll grow to appreciate the roles and habits of the various creatures that inhabit the Keys.
And, of course, the chance to see manatees in their natural habitat is always a highlight of these tours.
Book Your Tour Today
There's a whole world lurking just beneath the surface of the Florida Keys' waters. Going on manatee tours offers the unforgettable opportunity to come face-to-face with gentle giants of the sea.
Whether you choose a sunset cruise or an eco-tour, you'll leave with a deep appreciation of the environment and the wildlife that inhabits it.
So book your tour today!
KeyZ Charters works with experienced Captains and 21-foot-long deck boats to provide safe, easy tours with a 48-hour cancellation policy. Click here to book your tour.
---
‹ Back