The Captain & The Boat
Our 21-foot deck boat offers comfortable seating in a surround couch style, plus a hard top for shade. The boat is equipped with two ladders at the stern: one for shallow sandbar charter trips and one for snorkeling at the reef, making entering and exiting the water safe and easy. It is powered by a reliable 150-horsepower Yamaha four-stroke engine that is quiet and fume-free. This quiet engine allows us to approach wildlife on our eco-tours without disturbing the dolphins, birds, fish, and other animals in their natural habitat around Islamorada in the Florida Keys. The unique tri-hull design of the boat ensures a smooth ride and the ability to cruise in shallow waters as shallow as 2 feet, giving charter passengers the chance to get closer views of the beautiful water and wildlife surrounding Islamorada.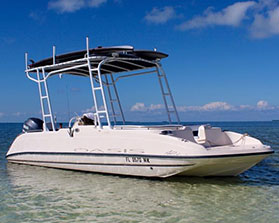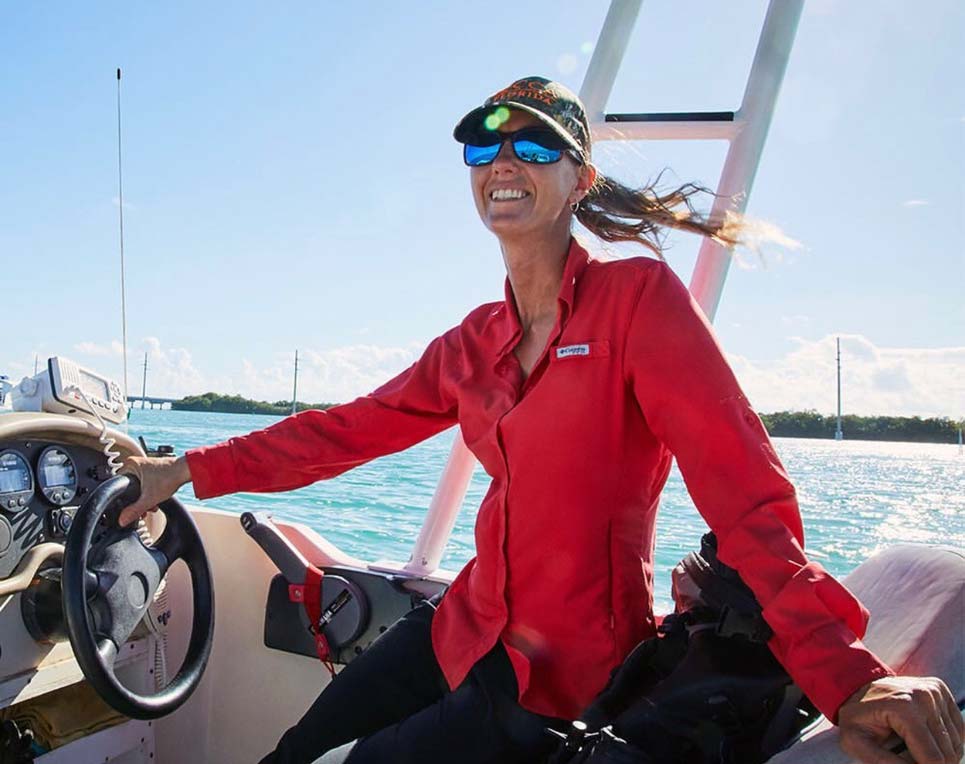 Captain Samantha
Capt. Samantha is a Florida Keys local with extensive knowledge of Islamorada, Marathon, Key West, and Key Largo. Growing up playing in the waters of Lower Matecumbe, Capt. Samantha developed a passion for marine habitats and went on to pursue a degree in Marine Biology at Barry University. Now with over 15 years of experience as a licensed captain, Capt. Samantha runs a 21-foot deck boat at Robbie's Marina, offering exciting sightseeing charters such as eco-tours, snorkeling, island tours, and sunset cruises to landmarks like Indian Key, Lignumvitae Key, Alligator Lighthouse, and Everglades National State Park. Her boat charters are private and can be tailored to meet your needs, whether you want to go bar hopping, view the Florida Key wildlife, or propose on a romantic sunset cruise. KeyZ Charters and Capt. Samantha provide the perfect Florida Keys adventure for the whole family.
Captain Jessi
Captain Jessi is originally from St. Louis, MO and after living all over the world, she has settled in the Florida Keys 3 years ago. She has been a scuba diving instructor since 2018 and has been working on the ocean ever since. After working on dive boats she discovered she had a passion for driving the boats as well and decided to became a captain. Jessi is now excited about sharing her love for the ocean and what lives in it at Keyz Charters. When she isn't working you can find her paddle boarding with her pup, Fin!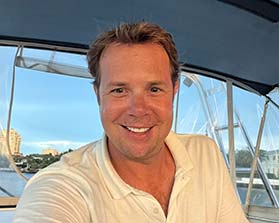 Captain Henry
Captain Henry has been a full-time working Captain for 5 years. In that time he has taken out 1200+ groups of people. Henry enjoys interacting with each group, sharing facts and stories about the Florida Keys and making each trip a great experience for the guests.
KeyZ Charters has a second 21' deck boat featuring couch-style seating throughout the vessel and a Bimini top for shade. The boat is equipped with two ladders, one on the bow and one on the stern, making it easy and safe to enter and exit the water during your private Florida Keys boat charter. The boat's stern also has a platform for standing and a couch for lounging while viewing the beauty Islamorada has to offer. Our boat charter is powered by a reliable 200-horsepower Yamaha four-stroke engine with no fumes, providing a quiet ride that won't disturb the wildlife on eco-tours. Additionally, the vessel has a Trii-hull, making it more stable and roomier, and allowing it to cruise in shallow waters of up to 2 feet. This gives customers a closer view of the wildlife and beautiful waters of the Keys.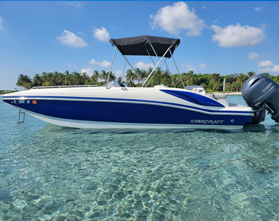 What To Bring
Sun Block (No Spray)
Sun Glasses (Preferably Polarized)
Hat or Visor
Towels
Food & Drinks
Camera
Water Shoes
Cash or Credit Card for Payment
---
To avoid plastics on the water we ask you bring reusable bottles. We no longer provide bottled water to limit the amount of plastics in our environment. Instead we have a jug of water with paper cups for our guests.
Cancellation Policy
There is a 48 hour cancellation policy on all our reservations. If you need to cancel or reschedule your tour please notify us 48 hours before the time of your charter. If you fail to inform us of your cancellation in a timely manner you will be charged the full amount of the tour. If we happen to cancel due to weather you would not be responsible for the amount, although weather cancellations are at the Captains discretion.