Historic Island Tours
Indian Key
*Note* Indian key is closed for boat access until further notice due to hurricane Irma.
In 1831 Jacob Housman purchased Indian Key for a salvage station. It was a perfect island due to it location because of the shallow water surrounding it and the close by reefs that ran along the coast line. Housman built a hotel, store, dwellings with cisterns, warehouses and wharves (peir/dock).40-50 permanent residents lived on the island and worked for Housman. In 1838 a man by the name of Dr. Henry Perrine moved to Indian Key to pursue his love for tropical botany. This was during the Seminole war of 1835 so it was also a place for Dr. Perrine and his family to wait the war out. Dr. Perrine grew hemp and many other plants such as tea, coffee, mangos, and bananas.
Military was stationed on Tea Table Key during this war to protect the island since the warehouses were well stocked. August 7, 1840 the island was attacked by 100 Indians. Most of the inhabitants of the island escaped but some were killed and the island was looted and burned. To this day the island has been uninhabited. All that remains is one house and whatever did not burn of the dwellings and cisterns. The nursery from Dr. Perrine is still growing naturally and has grown over most of the remains. As for Housman, he never returned to the island. Housman sold the island and went back to Key West and became a crew member on a wrecking vessel. Housman was killed by accidentally falling between two ships and being crushed.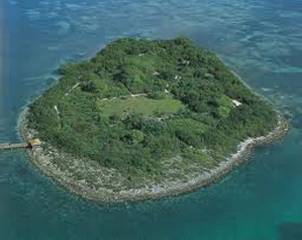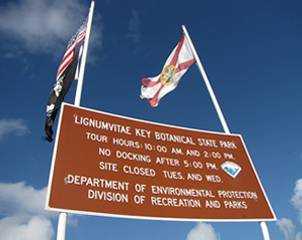 Lignumvitae Key
In 1919 Lignumvitae Key was inhabited by the Matheson family. The house and island was powered by a windmill. The windmill tower is still there but does not function. Cisterns were built next to the house to collect rain water falling off the roof. The Island began as a live coral reef protruding up from the sea floor. As times changed and the water froze, the sea level dropped causing the top of the reef to be exposed to air. This fossilized the reef into coral rock, forming the beginnings of the island. Then over time from tidal waves and storms, seeds of the trees were left behind to root and grow. There is an amazing tropical hammock on this island. The trails are lines with shrubbery such as gumbo-limbo, pigeon plum, strangler fig, mastic, and poison wood. Tours for this park are only offered Fridays, Saturdays, and Sundays at 10:00am and 2:00pm.